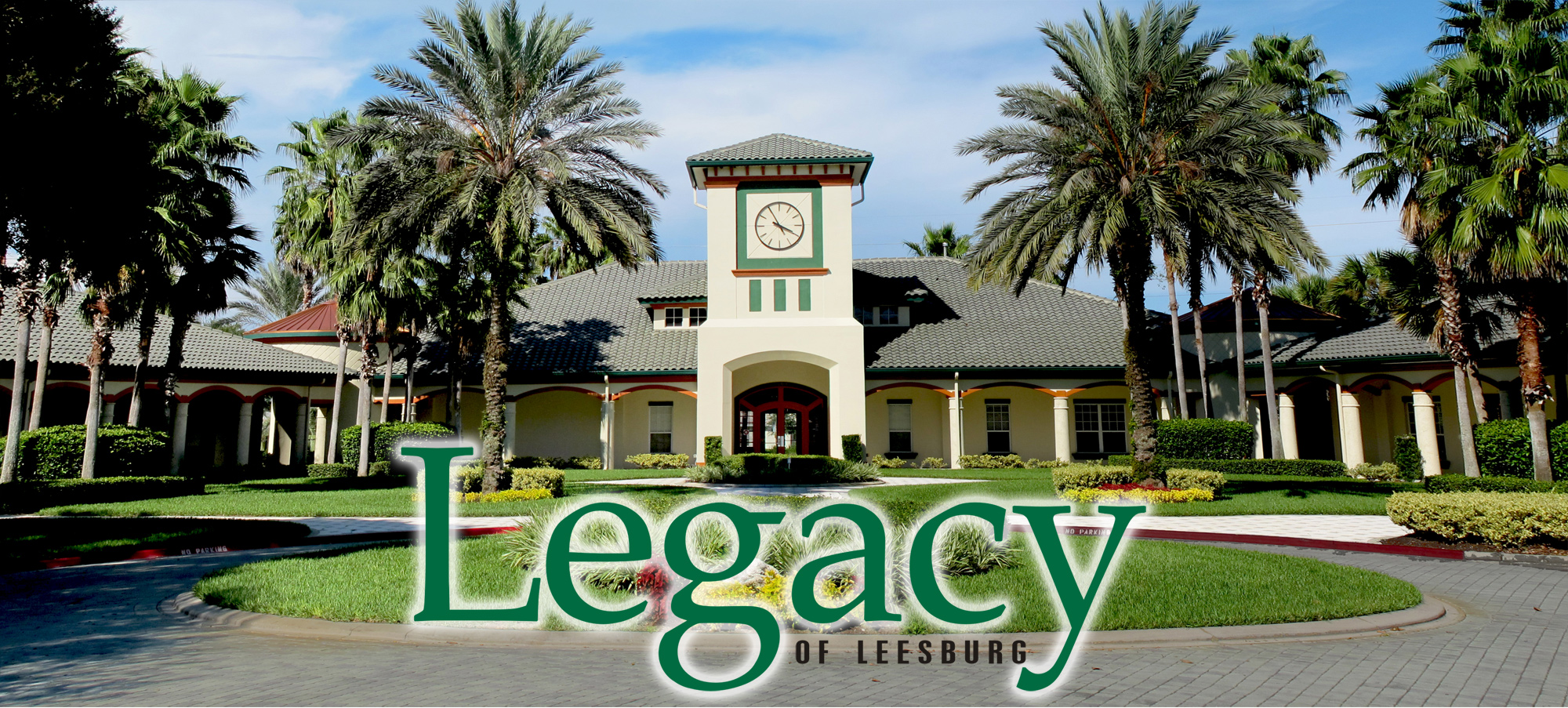 View Legacy Of Leesburg Homes For Sale--Under $150,000
View Legacy Of Leesburg Homes For Sale--Over $150,000
Come Live The Legacy In Great Retirement Living
If you've been searching for a perfect Florida retirement community that offers more of the Florida you really love, you'll find it at Legacy of Leesburg and the new homes now being offered by Florida Leisure Communities, one of the state's premiere builders for more than 30 years.
Legacy of Leesburg offers active retirement living in a stable mature community that is surrounded by the untouched beauty of natural Florida. Here is a retirement community that is naturally beautiful, delightfully uncrowded, unbelievably affordable, and incredibly fun. We invite you to explore our website and learn more about Central Florida and the best in senior retirement living at Legacy of Leesburg.
Now FLC is making Legacy's retirement community even more livable by offering our unique line of beautifully-designed homes that are built with quality, loaded with luxury standard features and priced at unbelievable values.
Central Florida's Most Beautiful Place For Active Retirement Living
In addition to beautiful, affordable homes and unmatched active retirement living in Florida, Legacy of Leesburg's retirement community puts you close to a variety of attractions, as it is located in a unique location in the middle of Florida's beautiful lake district, with just a short drive to the Orlando-area theme parks, gorgeous beaches, and one of the country's best international airports. Additionally, excellent shopping and medical care are very close by.
Our retirement community is located in Central Florida's uncrowded and beautiful lakes and hills region, with a small town setting that is only about 45 minutes northwest of Orlando. You'll notice that Legacy is different from many of the newer and developing retirement communities, as it offers active retirement living in a spacious natural environment, with stunning vistas of beautiful lakes, forest glades and nature trails through conservation areas, beside an unspoiled stretch of the Palatlakaha River.
You'll also notice the solid quality and traditional ambiance of Legacy of Leesburg's homes and amenities. Because Legacy is an established retirement community in Florida, our recreational facilities are complete and beautifully maintained by an established homeowners' association that is financially solid. And because there are no CDD's or other hidden costs, you can be assured that active retirement living at Legacy will be affordable year after year.
If you've been thinking about retiring in Florida but just haven't found the right place, please visit Legacy of Leesburg's retirement community today. You're going to love discovering that there really is a place that looks and feels like the Florida active retirement living you've always dreamed of. Legacy of Leesburg... it's perfect for you.
For More Information on Legacy of Leesburg, visit the community's website
See Current Legacy of Leesburg Homes For Sales Under $150,000 Here.
See Current Legacy of Leesburg Homes For Sale Over $150,000 Here.